WW type hydraulic forming copper bellows
1, size : 79x55x14
2, types of joints : ww type
3, Material: copper
4.Thickness:0.12mm-0.14mm
5.Forming method: Hydraulicforming
6.shape:U
7 operating temperature :-60 ℃ -+100℃
8 application : . Thermometer bellows; coupling bellows; fuel level gauge ;valve copper bellows; no sealinghigh pressure bellows ; vacuum bellows ; sensor bellows; vacuum switch
Metal bellows is also usually used in vibration isolating and noise reducing besides being used as thermal displacement compensating device .
9 types of joints :1), both ends are external jointsWW type
2), both ends are internal joints NN type
3), one end is external joints , the other with bottom WDtype
4), both ends are side cut from the troughQdQd type
10 ,Certification ISO9001:2008
Metal bellows is widely used in automatic controlling and measuring instrument , vacuum technique , mechanical industry , power industry , transportation and other industry , as sensitive element , damping element, compensating component , valve component .
We are capable of customized special design for clients
We can offer the sample to the clients , then the clients would place a order to us.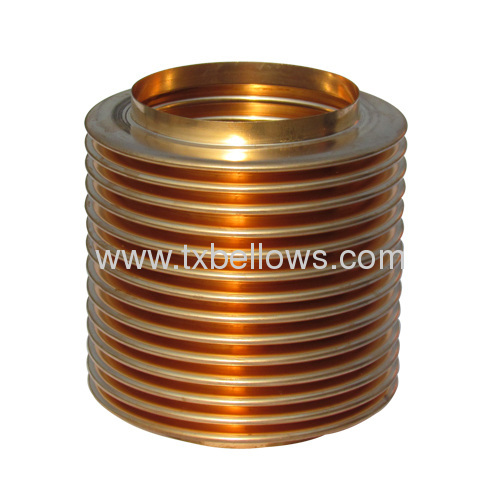 WW type hydraulic forming copper bellows